Lunenburg and The Smuggler's Cove Inn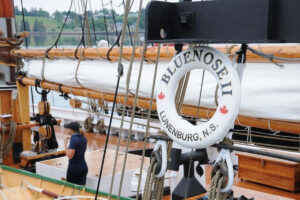 Lunenburg is a UNESCO World Heritage Site – with its narrow streets and unique architecture – it is also the home port of Nova Scotia's sailing ambassador, the Bluenose II. The graceful ship is a replica of the original fishing boat that found fame as a racing schooner.
Wander Old Town Lunenburg's distinctive waterfront with its colourful buildings and listen for salty tales of seafaring and rum-running. Discover what life is like on the open ocean when you visit the Fisheries Museum of the Atlantic on the Lunenburg waterfront.
Lunenburg is truly a walking town, with everything centrally located and just a short distance from one another. Stroll past the colourful heritage properties (in case you're wondering, Nova Scotia's fishing towns often painted their homes bright colours so as to be easily seen from the water), visit the many gift and artisan shops scattered throughout the town or enjoy an ice cream along its boardwalk. If the steep hills seem intimidating, you can take a horse and carriage ride with a driver who will gladly point out all of Lunenburg's famous sites.